Nominated for Best LGBT Podcast by the Podcast Awards two years in a row, Gayish bridges the gap between sexuality and actuality. Mike and Kyle talk about gay stereotypes they fit into, ones they don't, and everything in between.
To support us in creating independent, queer content, become a Patreon. Some levels include bonus content!
Mike Johnson

Mike is a computer programmer living in Seattle, WA. Born and raised in Eastern Washington, he came out as gay in 2008 at the age of 30. He is an alumnus of Eastern Washington University, where he joined a fraternity (and still volunteers).  He's also a musician, drives a Jeep, and loves beer.
Kyle Getz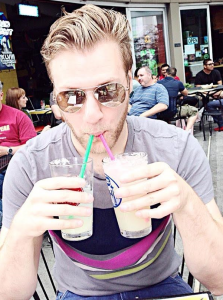 Kyle is a writer living in Seattle, WA with his dog Reynolds.  He grew up in Katy, TX, and went to school at The University of Texas at Austin. Kyle came out when he was 20, and continues to come out all the time since most people confuse his height as a sign of straightness. Kyle enjoys top 40 pop music, wearing t-shirts and jeans, and trying to pretend that he didn't forget your name. More info at kylegetz.com.
Awards and Festivals
2018